What You Need to Know About DFW DataVault
Use the DFW DataVault software to automatically back up your files to other computers, to attached drives or to DFW DataVault's Secure DataCenter. Use any combination of destinations for the most reliable back up strategy and the most convenient options for restoring your data.
CrashPlan Pro is automatic backup software at the core of DFW DataVault that you install on your computer. Once installed, the software de-duplicates, compresses, encrypts and transmits the files on your computer to another computer or for added protection, multiple computers (called destinations) in different locations that you specify. When something goes wrong with a file, a drive, a computer or whatever event that might prevent you from getting to the information you need, you can restore the files from the backup destination. Because the software is automatic, you don't have to remember to back up. DFW DataVault remembers for you.
All your files are compressed to make the backup as fast as possible. These files are also encrypted, ensuring your privacy. Bandwidth throttling keeps the software running quietly in the background, never slowing you down. If there's a problem with one of your backup destinations, you're alerted by email.
You need the DFW DataVault software installed on each computer that you want to back up.
There are several parts to the software, some of which are hidden from view, but are nonetheless critical to the software's inner workings.
The DFW DataVault-CrashPlan desktop is the environment you log into to access your DFW DataVault account, set up and manage backup destinations, and specify and adjust your DFW DataVault backup and restore preferences.

The DFW DataVault-CrashPlan engine is the behind-the-scenes part of the program that monitors the files on your computer and quietly, imperceptibly, performs backups and restores. It does its thing even if you've closed the Desktop or logged out of your computer.

DFW DataVault plays two roles in the world of your backup system. One is an offsite backup destination, and the other as a server that stores, coordinates, tracks and manages all the information about your DFW DataVault accounts, users, destinations, and their associated backups and restores. This server tracks all back up activity even between your systems. This allows it to send detailed back up reports and alerts. If you use DFW DataVault as an offsite destination it will verify the health of your backup by ensuring that your files can be restored reliably when you need them. If it detects a problem, you'll be informed of that too.
Even though onsite and offsite backup destinations each have their own advantages, when the worst happens, it's good to have a backup plan that covers all the bases: an onsite backup destination for fast backup and restore operations and an offsite backup destination to handle disasters that affect an entire facility or region.
Onsite (local) - Backing up one computer to another in the same house or office suite. This scenario assumes the computers are networked, connected by a cable or wireless connection.
Offsite (remote) - Backing up to a destination some physical distance from the source computer. For example, if you want to backup your home computer to an offsite location, you can back up to a friend's computer or a computer at your office.
Online backup - This is a form of offsite back up in which a 3rd-party online provider is an offsite destination. DFW DataVault is an example of using a 3rd-party online provider is an offsite destination.
The following illustration is an example of a good backup strategy: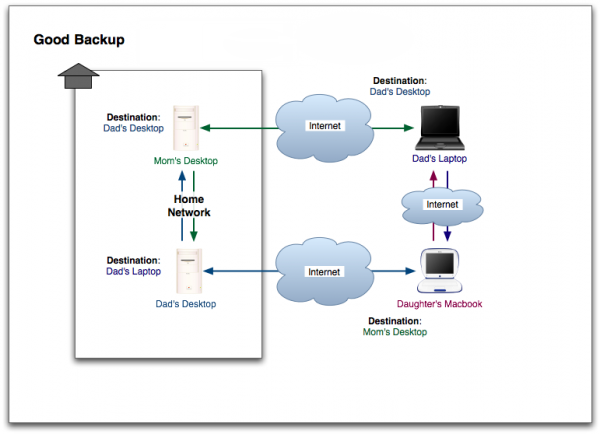 The more destinations you have (within reason) and the more types of destinations (onsite, offsite, online) the better your backup plan. In other words, you'll have easy access to your data no matter what type of disaster strikes. Your destinations can be any or all of the following:
Computers - Other computers to which you are connected via LAN, WAN or some other network and have DFW DataVault installed. In most cases, "computers" are assumed to be onsite or local destinations.
Folders - External devices such as an attached drive or network share.
Online
- Backup your data to DFW DataVault Secure
DataCenter
The DFW DataVault desktop is organized so that you can easily and conveniently manage your backups, restores, destinations and settings.
Click the tab that corresponds to what you want to do or the item you want to adjust. Tab names in this table are linked to the reference article about that tab.
| Tab | Description |
| --- | --- |
| Backup | Provides a summary of backup activity, status, destinations and sources. Click the links on this page to get quick access to the details for these items. This is the default page when you open the desktop. |
| Restore | Options for restoring files, including backup destination and file selection. |
| Settings | Settings for determining when alerts and warnings are sent, when DFW DataVault will run and other settings that identify when the computer is in use, plus backup, account, security and network settings. |
| History | An on-going record of backup and restore activity, which is very helpful when troubleshooting. |
| Destinations | Access to details and settings for different kinds of backup destinations, including friends, computers, folders and 3rd-party providers. |